Property Maintenance from the Plymouth Painter
The Plymouth Painter can deliver property maintenance services, whether in conjunction with decorating, or as stand-alone works.
Glen can maintain and install cladding, fascia and guttering and many other small exterior property works. As for the inside of your property, he's able to tile walls and floors and install laminate flooring. If you're looking for a service that you don't see listed, Glen may still be able to assist.
Cladding/fascia cleaning and repair
Be it cladding or fascia, the Plymouth Painter can install it, repair it, replace it or clean it.
The Plymouth Painter can replace old, rotten wooden fascia with new, smart, low-maintenance UPVC fascia. And if you've got tired tiles or slates, or drab masonry, the Plymouth Painter can over-clad with UPVC cladding, giving protection to your walls and saving you from needing to paint regularly.
cleaning fascia
replacing fascia
installing fascia
installing cladding
Get a fascia quote
Gutter cleaning and repair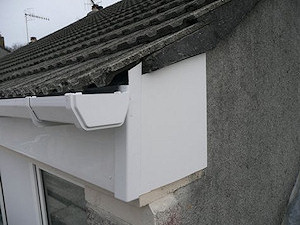 The Plymouth Painter can clean the outside of your existing guttering and clear the inside, ensuring an uninterrupted flow when it rains (and living in Plymouth, that's frequently!)
But the Plymouth Painter can also install new gutting and downpipes, replacing existing UPVC or cast iron guttering, or even removing pre-cast concrete gutters.
Glen is always happy to discuss discounts for two or more neighbours looking for guttering replacement — a great way to save money and maintain and improve your property!
cleaning guttering
replacing downpipes
re-routing downpipes
replacing guttering
removing concrete gutting (and replacing with new UPVC)
Get a guttering quote